Lewis and Cluck Comic Strip Blog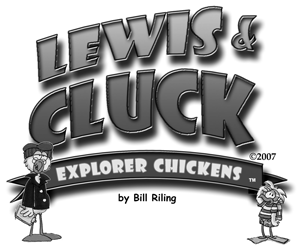 I recently became aware of a very funny fellow cartoonist, Bill Riling. Bill is a writer and storyboard artist and his most recent screen credit is as the co-writer of the newly released TV special
Shreck The Halls
.
Bill, like many talented and creative people, has always had the dream to produce a daily comic strip. And like many of us who share that dream, he has previously done some initial work on a strip idea. Actually he has done more than just a little work, he has created a substantial body of work that he is dusting off, updating and preparing to launch in the near future. A number of his close friends encouraged Bill to expose his work for feedback and comment on a new blog which he has named
Toonon Toonin Toonout
.
Bill's comic strip

"Lewis and Cluck"

follows the adventures of his two main explorer characters on a worldwide voyage of discovery. I won't talk much more about the strip because you can discover this amazingly clever comic for yourself by visiting Bill's blog. There is a little bit of
Jacques Cousteau meets
Inspector Clouseau going on and its very funny stuff.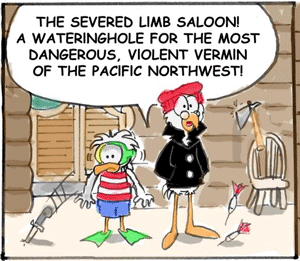 Captain Merrifeather Lewis
and
Cluck
I already have a favorite character, he's lovable, misunderstood, and has an attitude, Depth Charge. I can wait to read more of his adventures and to see how Bill will develop this great supporting member of his cast.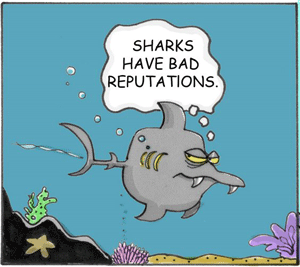 "Depth Charge"
The Great White Shark
Bill is really anxious to get feedback and comments and to expose his strip to new readers, so click on the links provided and start what I'm sure will soon become a daily obsession of reading the latest adventures of "Lewis and Cluck". I sure know I'll be doing that too.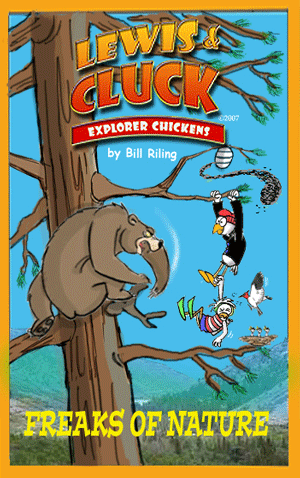 Up a tree wishing they had a paddle or a knife or a gun maybe?
Labels: comic strips