Reconnecting With A Childhood Hero
The 1960's and 1970's are famous for many things, but as a teenager growing up I most fondly remember my love affair with the automobile. Those were the days of cool European sports car imports and American "Muscle" cars. The Beach Boys and Jan & Dean had us all singing tunes about California and Duce Coups and Deadman's Curve. My dream car was a Shelby Cobra. And I spent countless hours reading all the latest car magazines. Skate boards were the closest thing to a surf board and go carts were all the rage.

As a budding cartoonist, I wanted to grow up to be just like Walt Kelly. But there were other cartoonists who also had strong influences on my formative years.
Charles Schulz, Brant Parker and Johnny Hart,
and Don Martin were all heroes of mine. But there was one hero who bridged the gap between two youthful loves, cartooning and cars, and that was Fred Boatman.


From 1962 to 1976 Fred published his cartoons in several Petersen Publishing magazines, Car-Toons, Hot Rod Cartoons, Drag Cartoons etc. I remember rushing to the local corner drug store every Tuesday after school to get my hands on the latest copy. Then suddenly Fred Boatman's cartoons dropped off the radar. They seemed to vanish from sight and became relegated to fond memories. My only conclusion was that my hero had died. Otherwise why else would these wonderful cartoons just vanish?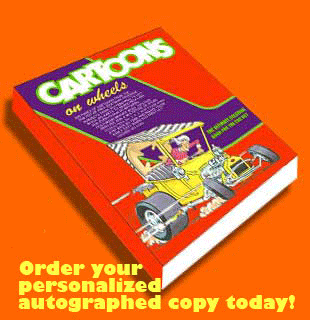 Then a few months ago I found out the answer. Tragically, Fred Boatman had just lost his motivation and stopped submitting cartoons to the magazines. He was under the complete misconception that no one really cared about his drawings and that he was wasting his time doing those cartoons. He moved on to a career in the graphic arts.

Then one day Fred Boatman ran into a former fan who asked him "where did you go?". Fred replied that he hadn't gone anywhere, but that he had lost his motivation due to the lack of people's interest. The fan then told him that he and all his friends, who were huge fans too, had assumed Fred had died, and that Fred was mistaken because lots of people did really care. It was a revelation too late, but it was also a wake up call. Fortunately, Fred had saved all those original cartoons that were long since lost to the archives of the "out of print" magazines. Fred, now in his 70's, decided to re-publish his classic cartoons in an anthology and fortunately we can all reconnect with those days long past. If you want to learn more about Fred Boatman and get your hands on this amazing set of cartoons I recommend that you visit Fred's website.