Forums and Tigers and Blogs, Oh My!!
I really don't know how my future articles will evolve, but beginning with today's article I am going to be trying to write about topics that I previously would have posted in an interactive forum. If you are not new to my writings, then you have probably read many of those informational and instructional forum threads. I think Internet forums play an incredible useful and important role in facilitating idea exchanges and providing helpful hints and letting people share their opinions. I also think they can be over used or misused.

Forums are, or at least should be, highly interactive places where people give and take advice and opinions. Sometimes they are also places where information and instruction are presented. As someone who has used them that way for many years, I now believe that to be a misuse of the forum format. The logical evolution of the forum is in fact the blog.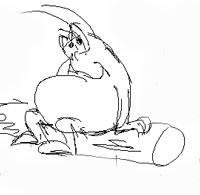 A blog, by its very nature, is a personal communications platform. Some blogs are interactive. To me that blurs the lines between blogs and forums. So one of the early decisions here at Between The Frames was to not allow comments to be posted. Not because I want to discourage ideas or their exchange, but because I didn't want this to become another type of forum. But, I do actively encourage readers to write to me directly using the information provided in my profile. And I get quite a few notes and comments and requests that way. So feel free to write, as your input and requests are welcomed. When appropriate, I'll include significant ideas that people send to me so that I can share them with you.

Not Us, Unfortunately

I got a recent note asking about our involvement in the production of "Raid" TV commercials. I wasn't sure what prompted that note, but then I realized that many recent scribble drawings that I included in my articles were "bug" characters. I would love to tell you that we are involved with those amazing "Raid" commercials, but unfortunately we are not. We do have "bug" like cartoon characters of our own, and those are the guys and gals that pop up from time to time in the articles. But that's all I can say about that at this time.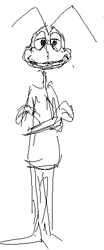 Next Steps

I hope that you are enjoying the articles I write, I get plenty of positive feedback so I do know there are many readers who do in fact find these articles interesting. I am often asked about various software and technology products and their usage in animated content production. If you read my previous article,
My Animation Software Isn't Making It, Because Something Is Stinking up the Room
, you probably know that I just consider technology as a tool. My interest is to entertain through the content that our studio produces, whether it is in the form of instructional materials, commercials, or just cartoon shows. So I plan to write about that and to encourage others to expand their horizons in terms of their own creativity. Any reference to software, hardware, technology or other tools used in content creation is provided in just that context. They are tools. The content is everything, and it makes no difference how you produce it.

Drop us a note from time to time and let us know how we are doing and what you enjoyed and found interesting, your opinion is important. In fact, it is so important that we are writing this blog, not only to tell you about what we are doing, but to encourage you to get more involved in producing your own animated content. That way you can entertain others and have fun doing it. And also maybe make a living doing it, which is the really fun part. Getting paid to do what you love.